Sidewall conveyor belts
Possible to convey at steep angle with big capacity in a limited space
Available in all Sinoconve cover rubber qualities including abrasion resistant,heat resistant,fire resistant,cold resistant and oil resistant
Reinforcement inside sidewall perfectly combine flexibility and strength to effectively avoid torn
Special rubber compounds provide cleats superior resistant to impact,rip and tear
Twice hot vulcanizing give outstanding flexibility,high strength and durability to Sinoconve sidewall conveyor belts
The entire sidewall conveyor belts are highly duable,low elongation and long lasting
Specification
Manufacturing
Certificates
Based belt width(B)
Sidewall height(H)
Cleat height(H1)
Bottom width of sidewall(B1)
Cleat width(B2)
Empty width(B3)
300
40
35
25
180
35
60
55
50
120
40
80
75
400
60
55
50
180
60
80
75
100
90
500
80
75
50
250
75
100
90
120
110
650
100
90
50
350
100
120
110
160
140
75
300
800
120
110
50
460
120
160
140
75
410
200
180
1000
160
140
75
550
150
200
180
240
220
1200
160
140
75
690
180
200
180
240
220
300
260
100
640
1400
200
180
75
830
210
240
220
300
260
100
780
400
360
Cleat type
Cleat height(mm)
Bottom width(mm)
Weight(kg/m)
Min. drum dia.(mm)
Production length(m)
t
20
40
0.28
75
3/5
25
40
0.3
75
3/5
35
55
0.55
100
3/5
40
70
0.6
125
3/5
55
80
1.45
125
3/5
75
80
1.8
150
3/5
90
110
2.5
250
3/5
110
110
2.8
315
3/5
140
160
6.6
400
2.5
180
160
8.3
500
2.5
230
175
10.46
630
2.5
ts
110
160
7.9
315
3
140
160
9.25
400
3
180
160
11.5
500
3
230
160
13.5
630
3
250
160
14.6
630
3
280
160
17.65
800
3
360
160
19.25
1000
3
tc
75
80
1.8
150
3/5
90
110
2.5
250
3/5
110
110
2.8
315
3/5
140
160
6.6
400
2.5
180
160
8.3
500
2.5
230
175
10.46
630
2.5
tcs
110
160
7.9
315
3
140
160
9.25
400
3
180
160
11.5
500
3
230
160
13.5
630
3
250
160
14.6
630
3
280
160
17.65
800
3
360
160
19.25
1000
3
(Type "T" and "TS" are most suitable to convey materials in an angle bellow 40 degree whereas type "TC" and "TCS" are appliable in an angle above 40 degree)
(Type "TS" and "TCS" are inlaid design,highly suitable for quick maintenance of wear and tear.)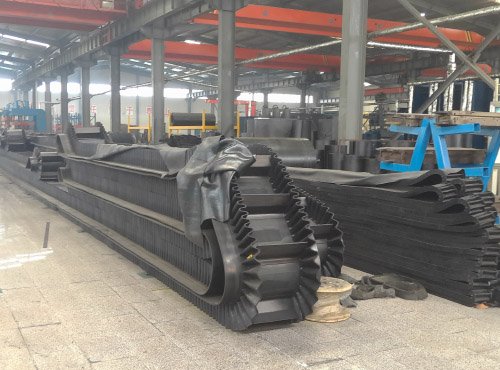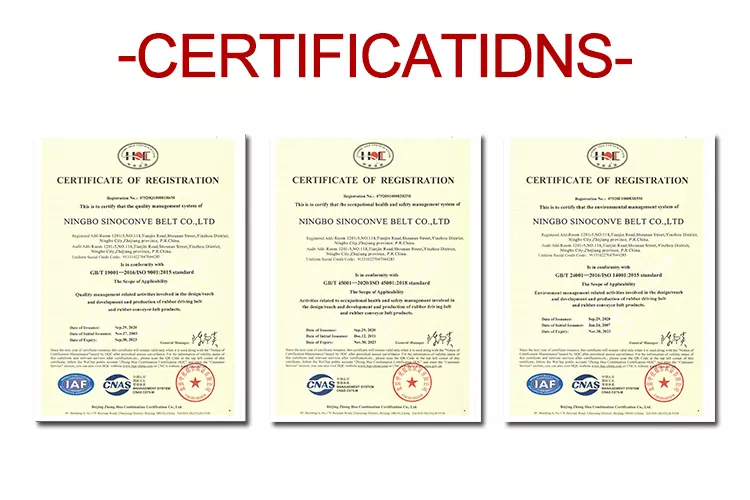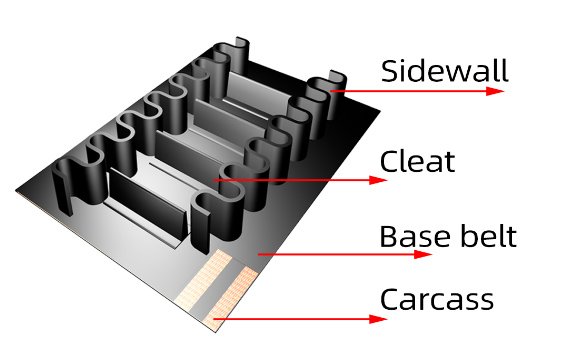 Sidewall conveyor belts structure
Sidewall conveyor belts are composed of three parts:base belt,sidewall and cleats.Sidewall effectively protect bulk materials from sideslip and scatter.
It is designed by most experienced engineers to corrugate shape and can withstand highly stress and repeated flexing
Cleats are the main part to carry materials in a high capacity and steep angle,which is T or TC type usually.
These two parts are connected with base belt by second hot vulcanizing,which creat a super-strength bond between sidewall,cleats and base belt.
Tensile strength test of sidewall conveyor belt
Sinoconve conveyor belt will be tested for tensile strength, abrasion resistance and adhesion before leaving the factory to determine whether the conveyor belt meets customer requirements.
Conveyor belt shipping and packaging
Sinoconve will provide packaging advice based on the type of conveyor belt you ordered.Sinoconve conveyor belt provides three packaging methods: round roll,glasses roll & oval roll.
Conveyor belt outsourcing pp tarpaulin, color can be customized, and also provide pallet (wood/metal) and iron frame options.
What is a sidewall conveyor belt
Sidewall conveyor belt is composed of three parts: base belt, sidewall and diaphragm. The rib plays a role in preventing the material from slipping and falling. In order to facilitate bypassing the drum, the ribs are designed to be corrugated; the function of the diaphragm is to support the material, in order to achieve large inclination conveying, the T-type TC type is used. The ribs and the diaphragm are connected with the base tape by the method of secondary vulcanization, which has a high connection strength.
Sidewall conveyor belt cleat
Cleat Height
1″
1.5″
2″
2.5″
3″
3.5″
4″
5″
6″
Min. Pulley Dia. (D1)
4″
5″
6″
8″
10″
14″
14″
18″
18″
Cleat Height
2″
2.5″
3″
3.5″
4″
4.5″
Min. Pulley Dia. (D1)
6″
8″
8″
10″
14″
14″
Cleat Height
3″
3.5″
4″
4.5″
5″
5.5″
7″
9″
Min. Pulley Dia. (D1)
8″
11″
12″
12″
16″
16″
16″
18″
Cleat Height
4.5″
5″
5.5″
6″
7″
9″
Min. Pulley Dia. (D1)
14″
14″
14″
14″
14″
14″