l shape conveyor belt
Flat pvc conveyor belt is the most common pvc conveyor belt
According to the surface:
Glossy pvc conveyor belt
Matte pvc conveyor belt
Rough pvc conveyor belt
Specification
Manufacturing
Certificates
Product name

Color
Working temperature
weight

(KG/㎡)

Tensile strength
Pulling force required to extend 1%
Smallest roller

Diameter (mm)

Hardness
Structure
Applicable equipment
1.0 Flat
Green/White
-10/+80
1.1
≥50
≥4
20
75/65
1 cloth &1 glue
Food, textile, packaging
1.5 Flat
Green
-10/+80
2
≥50
≥5
30
75
2 cloth & 2 glue
Machinery, textile,

packaging

2.0 Flat
Green/White/Black
-10/+80
2.5
≥100
≥8
40
75
2 cloth & 2 glue
Food, textile, packaging
3.0 Flat
Green/White/Black
-10/+80
3.8
≥100
≥8
60
75/65
2 cloth & 2 glue
Food, textile, packaging
4.0 Flat
Green/White
-10/+80
4.5
≥100
≥8
60
75
2 cloth & 2 glue
Food, textile, packaging
4.0 Flat
Green/White
-10/+80
4.8
≥150
≥12
80
75/65
3 cloth & 3 glue
Food, textile, packaging
5.0 Flat
Green/White/Black
-10/+80
6.1
≥200
≥16
120
75
3 cloth & 3 glue
Food, textile, packaging
6.0 Flat
Green
-10/+80
7
≥200
≥16
150
80
4 cloth & 4 glue
Machinery, textile, packaging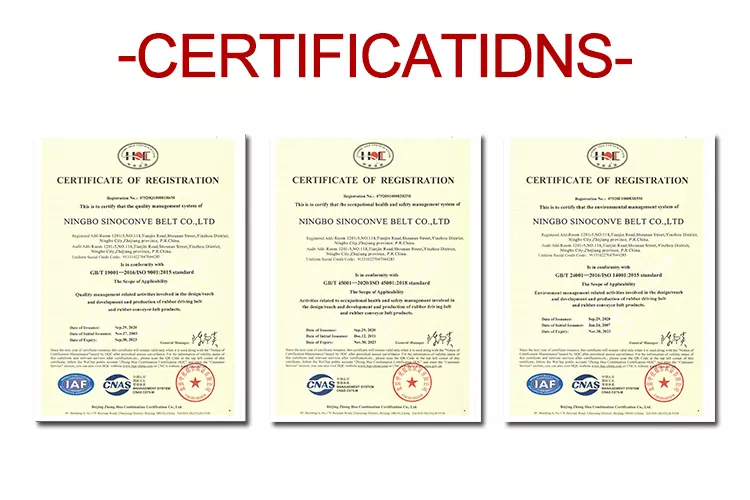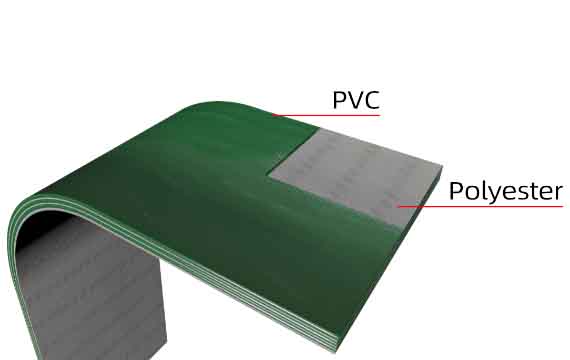 Flat pvc conveyor belt structure
Flat PVC conveyor belt are composed of polyvinyl chloride (PVC) and industrial polyester cloth . PVC conveyor belts can be heat-connected or use steel buckle joints. SINOCONVE provides logo customization, belt punching and other services
Application:
Electronic products, food, textile, packaging and other industries
PVC conveyor belt quality test
Sinoconve conveyor belt will be tested for tensile strength, abrasion resistance and adhesion before leaving the factory to determine whether the conveyor belt meets customer requirements.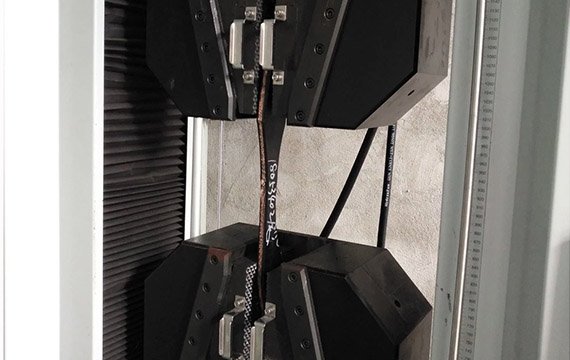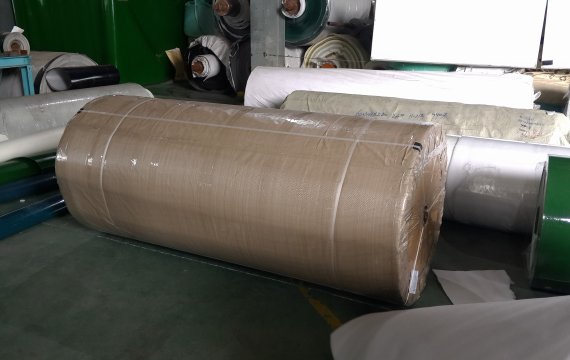 Conveyor belt shipping and packaging
Sinoconve will provide packaging advice based on the type of conveyor belt you ordered.Sinoconve conveyor belt provides three packaging methods: round roll,glasses roll & oval roll.
Conveyor belt outsourcing pp tarpaulin, color can be customized, and also provide pallet (wood/metal) and iron frame options.
What is PVC conveyor belt
The rubber surface of the PVC conveyor belt is made of polyvinyl chloride (PVC), which is composed of polyester fiber cloth and polyvinyl chloride glue. Its working temperature is generally -10° to +80°, and its joint mode is generally an international toothed joint, and its lateral stability is good and suitable for transmission in various complex environments.
PVC conveyor belt application industry:
Tobacco industry, logistics industry, packaging industry, printing industry, food industry, wood industry, food processing industry, entertainment industry, aquatic industry, stone industry, etc.
PVC conveyor belt performance classification:
Mild climbing conveyor belt, high climbing conveyor belt, baffle lifting conveyor belt, vertical elevator belt, non-slip conveyor belt, sander conveyor belt, wear-resistant conveyor belt, heavier item conveying Belts, Lightweight Conveyor Belts, Guided Anti-Deflection Conveyor Belts, Perforated Suction Conveyor Belts (Suction Fan Belts), Conveyor Belts with Rake Spikes, Spiral Lifting Conveyor Belts, Curved Lifting Conveyor Belts, Ultra-Wide Conveyor Belts, Sponge Conveyor belts, grooving conveyor belts, block conveyor belts, edge-sealing conveyor belts, grooved conveyor belts, knife edge conveyor belts, etc.
PVC conveyor belt color:
Red, yellow, green, blue, gray, white, black, dark blue green, transparent
PVC conveyor belt thickness:
0.8MM to 11.5MM can be produced.
PVC conveyor belt product pattern:
Lawn pattern, fish-bone pattern, rhombus pattern, cross pattern, mesh pattern, inverted triangle pattern, horseshoe pattern, zigzag pattern, small dot pattern, diamond pattern, snakeskin pattern, cloth pattern, large round table Pattern, wave pattern, washboard pattern, one-line pattern, thin straight pattern, golf pattern, large square pattern, matt pattern, coarse texture pattern, plaid pattern, etc.
Fabric level division of PVC conveyor belt products:
One cloth and one glue, two cloth and one glue, one cloth two glue, two cloth two glue, two cloth three glue, three cloth three glue, three cloth four glue, four cloth four glue, four cloth Five glues, five cloths and five glues, etc.