Ribbed belt structure
V ribbed belt structure: top surface layer, cord, rubber
SINOCONVE V ribbed belts offer a choice of four surfaces:Rough surface,Glossy surface,Fabric surface & SN surface
Cords are available in two options: polyester cord, fiberglass cord
Rubber: CR, EPDM, CR+Kevlar, EPDM+Kevlar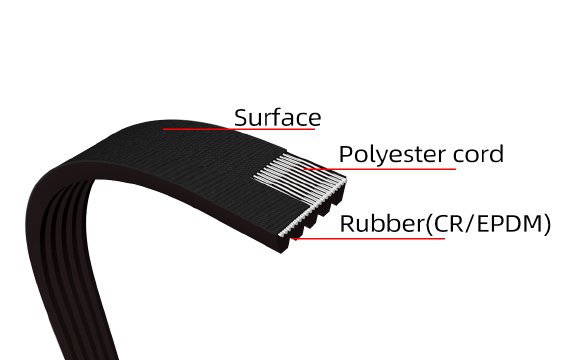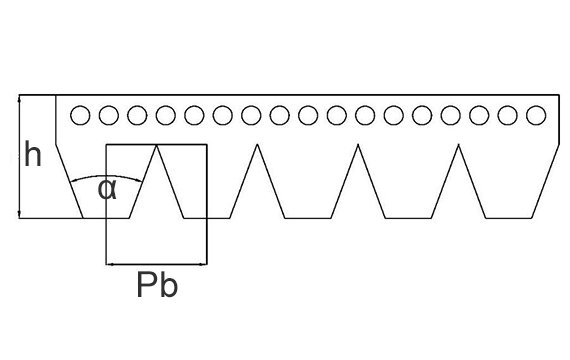 Ribbed belt classified by structure
| | | | |
| --- | --- | --- | --- |
| Type | Pb | h | α |
| PH | 1.6 | 3 | 40 |
| PJ | 2.35 | 4 | 40 |
| PK | 3.56 | 6 | 40 |
| PL | 4.7 | 10 | 40 |
| PM | 9.2 | 17 | 40 |
RIBBED BELT APPLICATIONS
(5)
How to distinguish a ribbed belt?
Ribbed belt is formed by vulcanization of the whole mold, the flat belt is the base belt, and the inner surface is arranged with an annular rubber drive belt with longitudinal 40° trapezoidal wedges at equal intervals
Ribbed belts are divided into PH belts, PJ belts, PK belts, PL belts and PM belts based on the three elements of belt thickness, trapezoidal wedge spacing and trapezoidal wedge angle.
Type
Pb
h
α
PH
1.6
3
40
PJ
2.35
4
40
PK
3.56
6
40
PL
4.7
10
40
PM
9.2
17
40
Features of ribbed belt:
The transmission power is strong, and the transmission power of the multi-ribbed belt is stronger than that of the classical V-belt in the same space.
The transmission structure is compact. Under the same transmission power, the space ratio of the V-ribbed belt is smaller than that of the classical V-belt.
Thin belt, good flexibility, suitable for small diameter pulley transmission and high-speed transmission
Oil resistance, heat resistance, wear resistance, small elongation, long service life
Precautions for the use of rubber conveyor belts
⒈ Avoid the idler being covered by the material, causing the rotation to be ineffective, to prevent the leakage of the material from being stuck between the roller and conveyor belt, pay attention to the lubrication of the moving part of the conveyor belt, but do not contaminate the rubber conveyor belt;
⒉ Prevent rubber conveyor belt load from starting;
3. If the rubber conveyor belt deviates, measures should be taken to correct it in time;
⒋When the rubber conveyor belt is found to be damaged locally, repair materials in time to avoid expansion;
⒌ Prevent the rubber conveyor belt from being blocked by the frame, pillars or block materials, and prevent it from being broken and torn.