PVC conveyor belt
PVC conveyor belt suitable for heavy duty operations due to polyester/polyamid (EP)fabric structure design:
Low elongation with highly reliability and durability.
High adhesion between plies and between cover and ply.
Advanced production technologies and facilities ensure ep conveyor belting extended service life.
Available width from 300mm to 2500mm,depending on rubber conveyor belts thickness and length.
Different cover quality enable EP conveyor belts to transport materials which is -40℃ to 300℃,combustible,oily and cold.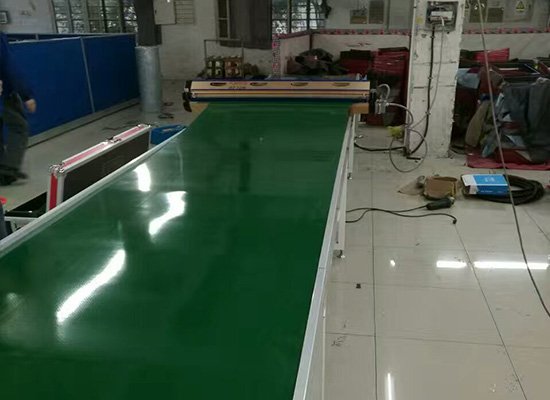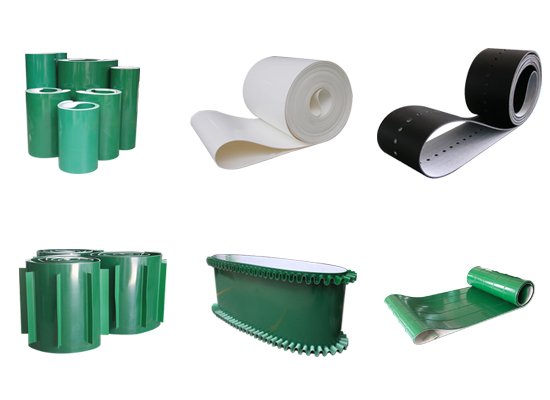 Conveyor belts classified by structure
Flat pvc conveyor belt
Cleat pvc conveyor belt
Guide pvc conveyor belt
Sidewall pvc conveyor belt
Classified by structure
(4)
What is PVC conveyor belt
The rubber surface of the PVC conveyor belt is made of polyvinyl chloride (PVC), which is composed of polyester fiber cloth and polyvinyl chloride glue. Its working temperature is generally -10° to +80°, and its joint mode is generally an international toothed joint, and its lateral stability is good and suitable for transmission in various complex environments.
PVC conveyor belt application industry:
Tobacco industry, logistics industry, packaging industry, printing industry, food industry, wood industry, food processing industry, entertainment industry, aquatic industry, stone industry, etc.
PVC conveyor belt performance classification:
Mild climbing conveyor belt, high climbing conveyor belt, baffle lifting conveyor belt, vertical elevator belt, non-slip conveyor belt, sander conveyor belt, wear-resistant conveyor belt, heavier item conveying Belts, Lightweight Conveyor Belts, Guided Anti-Deflection Conveyor Belts, Perforated Suction Conveyor Belts (Suction Fan Belts), Conveyor Belts with Rake Spikes, Spiral Lifting Conveyor Belts, Curved Lifting Conveyor Belts, Ultra-Wide Conveyor Belts, Sponge Conveyor belts, grooving conveyor belts, block conveyor belts, edge-sealing conveyor belts, grooved conveyor belts, knife edge conveyor belts, etc.
PVC conveyor belt color:
Red, yellow, green, blue, gray, white, black, dark blue green, transparent
PVC conveyor belt thickness:
0.8MM to 11.5MM can be produced.
PVC conveyor belt product pattern:
Lawn pattern, fish-bone pattern, rhombus pattern, cross pattern, mesh pattern, inverted triangle pattern, horseshoe pattern, zigzag pattern, small dot pattern, diamond pattern, snakeskin pattern, cloth pattern, large round table Pattern, wave pattern, washboard pattern, one-line pattern, thin straight pattern, golf pattern, large square pattern, matt pattern, coarse texture pattern, plaid pattern, etc.
Fabric level division of PVC conveyor belt products:
One cloth and one glue, two cloth and one glue, one cloth two glue, two cloth two glue, two cloth three glue, three cloth three glue, three cloth four glue, four cloth four glue, four cloth Five glues, five cloths and five glues, etc.
PVC conveyor belt product temperature range division:
Cold-resistant conveyor belt (above minus 40°)
Normal temperature conveyor belt (minus 10° to 80°)