Rubber timing belt
Rubber timing belt excellent dynamic curve performance
Crack resistant
Ozone resistant
Anti-aging
Heat resistant
Wear resistant
Specification
Manufacturing
Certificates
| | | | | |
| --- | --- | --- | --- | --- |
| Type | P | P1 | ht | hs |
| L | 9.525 | 4.65 | 1.91 | 3.6 |
| H | 12.7 | 6.12 | 2.29 | 4.3 |
| MXL | 2.032 | 1.14 | 0.51 | 1.14 |
| XL | 5.08 | 2.57 | 1.27 | 2.3 |
| XH | 22.225 | 12.57 | 6.35 | 11.2 |
| XXH | 31.75 | 19.05 | 9.53 | 15.7 |
| | | | | |
| --- | --- | --- | --- | --- |
| Type | P | P1 | ht | hs |
| T5 | 5 | 2.65 | 1.2 | 2.2 |
| T10 | 10 | 5.3 | 2.5 | 4.5 |
| | | | | |
| --- | --- | --- | --- | --- |
| Type | P | P1 | ht | hs |
| HTD-3M | 3 | 1.82 | 1.17 | 2.4 |
| HTD-5M | 5 | 2.86 | 2.06 | 3.3 |
| HTD-8M | 8 | 5.15 | 3.36 | 6 |
| HTD-14M | 14 | 9 | 6.02 | 10 |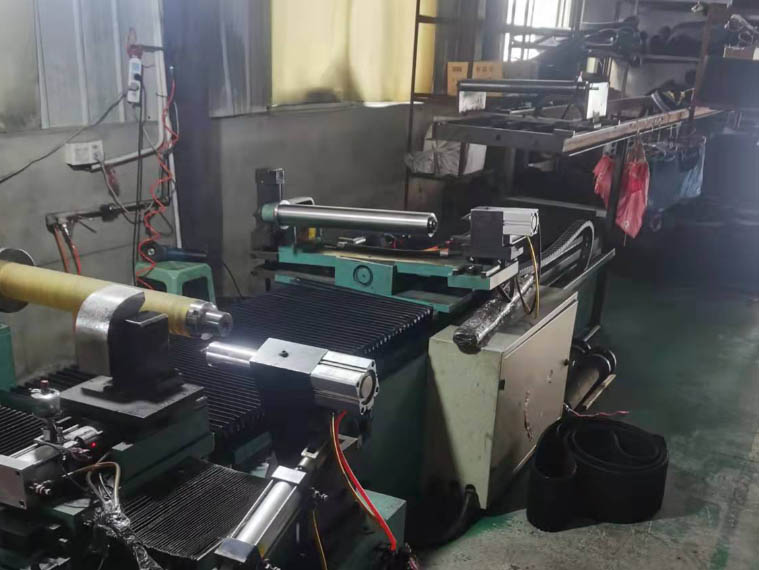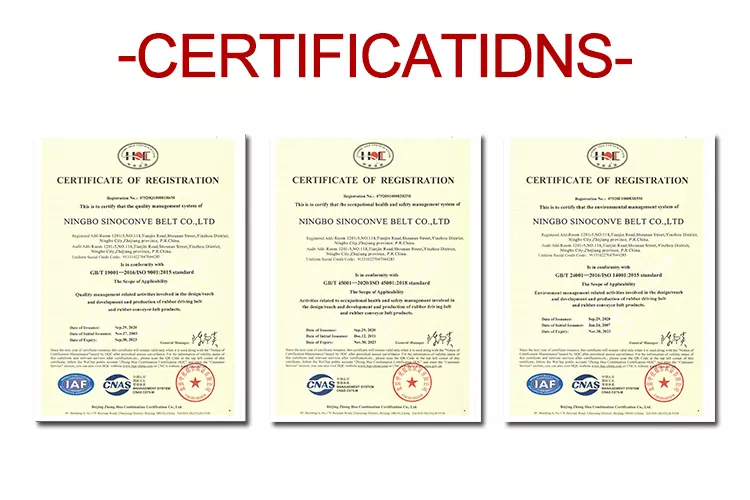 Rubber timing belt structure
Rubber timing belt structure: top surface layer, cord, rubber
Cords are available in two options: polyester cord, fiberglass cord
Rubber: CR, EPDM, CR+Kevlar, EPDM+Kevlar
Ut semper ipsum ex, quis aliquet justo pretium a Ut semper
Sinoconve conveyor belt will be tested for tensile strength, abrasion resistance and adhesion before leaving the factory to determine whether the conveyor belt meets customer requirements.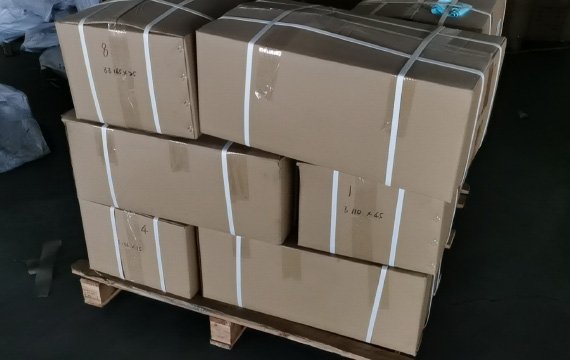 Rubber timing belt shipping and packaging
Sinoconve rubber timing belt are packaged and transported in 65*37*26 cartons, and also provide customized ribbed belt logo and product retail packaging.
What is timing belt
The timing belt is an endless belt with steel wire rope or glass fiber as the strong layer andcovered with polyurethane or neoprene rubber. When the timing belt is driven, the transmissionratio is accurate, the force on the shaft is small, the structure is compact, the oil resistance, thewear resistance and the aging resistance are good. i<10, it can also be used for low-speedtransmission for transmissions requiring synchronization.